Packages
ojai labyrinth
elopements
microweddings
Sacred Ceremonies
What is the Labyrinth?
The labyrinth offers an opportunity for walking meditation representing the journey to enlightenment. Just as we think we are closest to the center, we are actually the farthest away. We are all on the same path, but we all travel at a different pace, and we all must navigate unexpected twists and turns. There is only one path to the center, and unlike a maze, there are no dead ends. As we get closer to the center of the labyrinth, we get closer to our own center and our own truth.
The labyrinth takes several minutes to walk in its entirety. Enter the path holding a question in your mind. By the time you reach the center the answer may rise up from your subconscious as if by magic. Is it magic, or is it Ojai? By the time you wind your way out on the path, feel centered, calm, and at peace with the natural beauty that surrounds you every step of the way.
The stone path was constructed circa 1990. The design is based on an ancient pattern and is the same as the labyrinth of the Chartres Cathedral, in Paris, France. The Chartres labyrinth may have been built as early as the 13th century, though the actual date is unknown. This pattern has been duplicated at churches, monasteries, hospitals, and other locations throughout the world.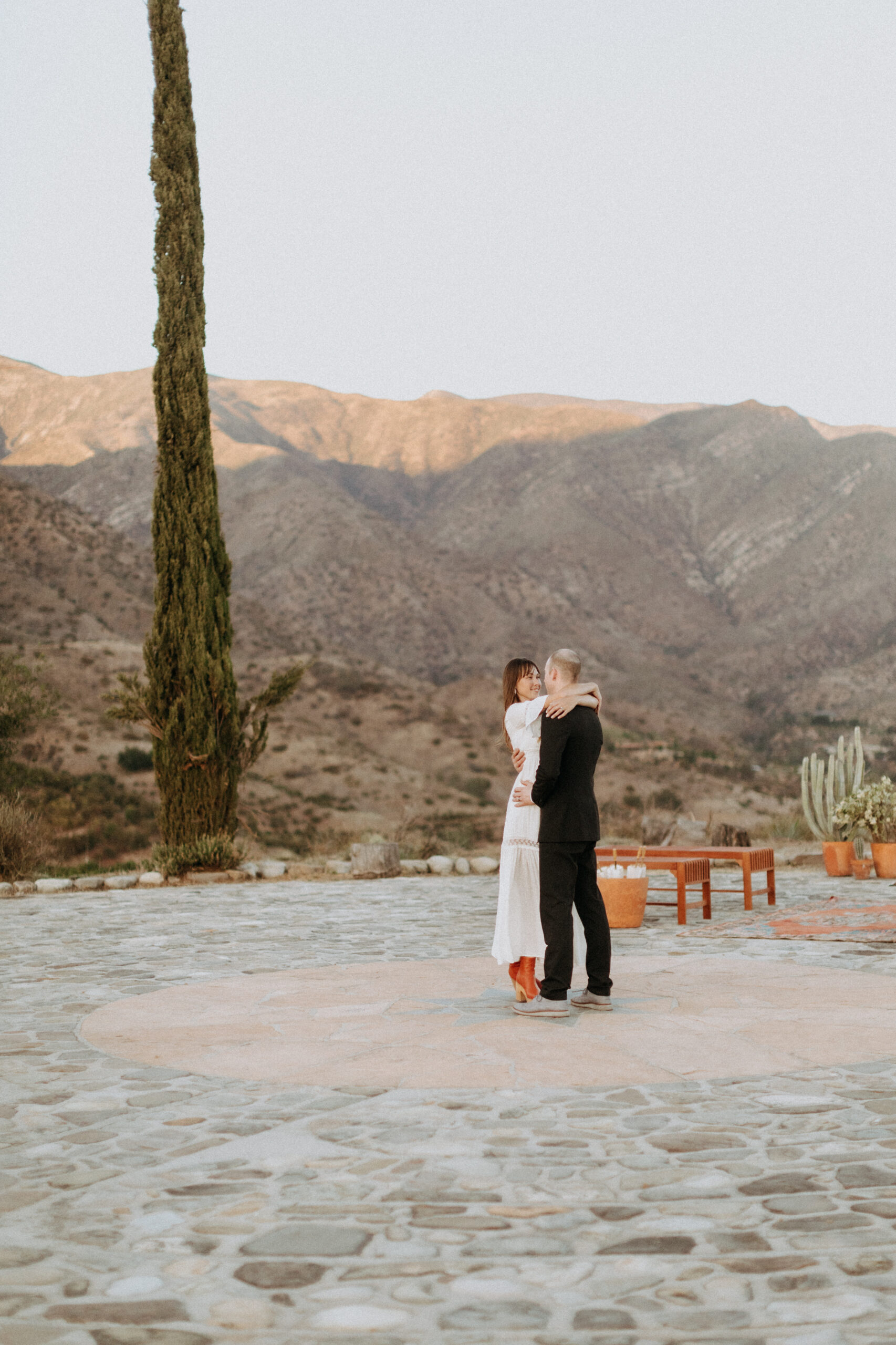 Pink Moment Package
Our most popular package includes full custom ceremony and expanded seating for your party to enjoy an extended celebration. For couples looking for a stunning and private location for a breathtaking ceremony, wedding photography, and mini reception.
This customizable package includes:
Sunset rustic mountaintop rental
Personalized walkthrough
In-house coordination
Vintage-inspired rentals by Otis + Pearl
Desert tropical decor by Plant Shop 805
Bespoke cake by Heirloom Baking Co.
Unlike any venue in the valley, this mountaintop has a stone labyrinth feature in addition to 360 degree views.
Golden Hour Package
This package is perfect for your classic elopement. For the couple looking for an exquisite backdrop for their bespoke ceremony and photos.

This package includes:
Personalized walkthrough
In-house coordination

Ceremony space design
Time for full photoshoot